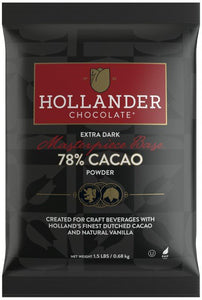 Masterpiece Base™ is made with the highest quality Dutched cocoas, natural vanilla, and cane sugar to put you in control of your own masterpiece. Use to create craft beverages, or as a healthier low sugar/high cacao option.
Hollander Chocolate café sauces and powders are created for craft beverages with Holland's finest Dutched cocoas and quality ingredients. With the creative spirit of the pioneering Dutch masters and a tradition of innovation we elevate classic cocoa recipes to work in harmony with fine espresso. Made in America for the modern café and barista, Hollander Chocolate is the premium collection of fine café sauces and powders.
Store in a dry and cool place, out of sunlight.
INGREDIENTS: Inverted Cane Sugar, Sweetened Condensed Milk (rBST Free), Sea Salt; Contains Less than 1% Combined: Natural Flavor, Acacia Tree Gum, Naturally Caramelized Cane Sugar; Contains Less Than 0.1%: Potassium Sorbate
GLUTEN FREE | SOY FREE | NO CORN SYRUP | NO ARTIFICIAL SWEETENERS
1.5 lbs bag