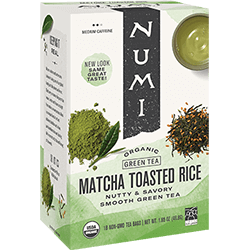 A classic blend of genmaicha and matcha teas, Matcha Toasted Rice has a savory, nutty flavor. We blend sencha green tea with toasted rice to make Genmaicha, a traditional Japanese tea. The result is a smooth, rich brew with earthy depth and undertones of brightness.
Store in a dry and cool place, out of sunlight.
INGREDIENTS: Verified Fair Labor™ organic sencha green tea, organic toasted rice, Verified Fair Labor™ organic matcha.
ORGANIC | VEGAN | NON-GMO | KOSHER
16 ct. per box | Net wt.1.24 oz. (35.2g) | 16 servings