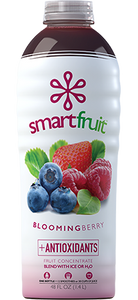 Can you smell the sweet smell of blooming berries filling the crisp air? Well, we took the liberty of bottling it up for you. Smartfruit™ Blooming Berry is a delicious medley of strawberries, blueberries, and raspberries blended into perfect balance and harmony. Each bottle is brimming with 20 strawberries, 80 raspberries and 280 blueberries.
Prepared in small batches in Brooklyn New York, we carefully crafted this product to actually taste like the delicious fruit you see pictured on the bottle. Finally we boosted each bottle with some natural antioxidant goodness derived from superfruits such as acai, goji, acerola, and maqui berries. Just mix with H2O or ice for a refreshing all natural juice or smoothie.
Shake before opening. Store in a dry and cool place, out of sunlight. Shelf-stable until opened, refrigerate once opened.
PREPARATION:
DRINK
For a refreshing & nutritious beverage, mix 1 part Smartfruit with 4-5 parts water.
BLEND
Pour 4 oz into blender
Add 3 oz water or milk*
Blend with 16 oz cup of ice & enjoy!
*use 4 oz to reduce sweetness
ENHANCE
Use Smartfruit as a garnish, or to enrich your favorite desserts and frozen treats.
INGREDIENTS: Fruit Juice Blend (Strawberry and Raspberry Purees, Blueberry, Pear and/or Apple and/or Pineapple Concentrates), Citric Acid, Pectin, Xanthan Gum, Natural Flavor, Fruit and Vegetable Juice (For Color). Boosted with a natural fruit antioxidant blend of acai, goji berry, acerola and maqui berries.
GLUTEN FREE | VEGAN | DAIRY FREE | NON-GMO | KOSHER | CHOLESTEROL FREE | NO ADDED SUGAR
Each 48 OZ. Bottle = 12 x 16 Oz. Smoothies OR 30 x 8 Oz. Cups Juice